I should never try to buy groceries when I'm hangry (hungry + angry). My hunger fueled rage temporarily distorts my ability to rationally purchase food, and I end up with a shopping cart of impulse buys. The most recent trip earned me an unbalanced bag filled with Flaming Hot Cheetos and an inappropriate amount of fruit. Given I'm leaving town in a few days and I just picked up a box of cherries from my CSA, I may have buyer's remorse. Right now, fruit needs to go in everything.
One of my favorite ways to use up extra stone fruit is to make clafoutis. Clafoutis (sometimes spelled clafouti) is a ridiculous sounding, classic French dessert where a custard is baked with just enough flour to make it sliceable. The texture should be creamy and be more custard-like than cake-like.
Traditionally, clafoutis is baked with unpitted cherries. According to elderly women in babushkas, the cherry pits impart an almond flavor that is essential to the dish.
Heed the babushka: Do not unpit your cherries!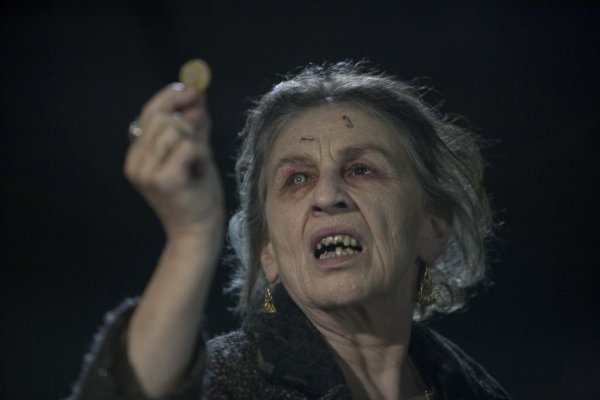 I, personally, like to hoover my dessert and can't be bothered with cherry pits.
Clafoutis is also a flexible recipe. A kind, giving recipe. The type of recipe your friends tell you that you should meet. The one that will treat you right because it can adapt to your needs and wants. Clafoutis does not run in the macaron crowd where the slightest variation of ingredients will ruin the dish. If you add more flour, the dish takes on a more pancake like texture. More liquids produce something closer to a custard.
It also comes together stupidly fast. It takes less than an hour and doesn't require a mountain of bowls or special ingredients. If you can make pancakes, you can make this. The process is simple: Heat up the milk, mix everything in a blender, pour into a dish, add the fruit, and bake.
Easy.
Know this: While traditionally made with cherries, you can easily substitute any type of stone fruit or fresh berries.
Cherry Clafoutis
By Evan Kalman
Yields 8 to 10 servings
Ingredients
1 lb fresh, pitted cherries
1 1/2 cup whole milk
1/2 cup sugar
1/2 cup all-purpose flour
3 large eggs
3/4 teaspoon vanilla extract
1/2 teaspoon kosher salt
Powdered sugar – for dusting
Steps
Preheat oven to 375°F. Butter pan or individual ramekins.
Heat milk to a simmer in a small saucepan. In a blender combine eggs, flour, sugar, vanilla, and salt. With the motor running, slowly pour in the warm milk and process until custard is smooth. Pour evenly into the buttered pan. Evenly spread cherries over custard.
Bake clafoutis until custard is set, slightly puffed, and golden brown, about 45-55 minutes or about 30 minutes for ramekins. Let cool and dust with powdered sugar.
To serve, cut into wedges.