I'd like to say I made ice cream because the weather has been nice lately but, I made this about 2 weeks ago and I'm fairly sure it was snowing. Hazelnut ice cream is probably my favorite ice cream and, in this version, I added chocolate-hazelnut spread to the ice cream base. I would have used Nutella, but apparently WholeFoods doesn't consider Nutella a whole food. I guess identical ingredients at a higher price are more sustainable.
One of the biggest factors in creating a smooth, creamy ice cream is the amount of butterfat, or fatty part of the milk, it contains by weight. Heavy cream is about 36% butterfat, half-and-half is about 12% butterfat, and whole milk is around 3.5% butterfat. I use a ratio of 1:1 of cream and milk, which produces an ice cream of 12% butterfat by weight including the sugar and egg yolks. To put that into perspective, ice cream must contain at least 10% butterfat according to the FDA and Ben & Jerry's is about 16% butterfat.
Ice cream starts with a custard base. First, a mixture of cream, milk, and sugar is simmered on a stove. At this point, the mixture can be infused with vanilla beans, nuts, etc. I infused mine by steeping the milk mixture with crushed hazelnuts. Next, the egg yolks are tempered using some of the hot mixture to prevent scrambling and everything is cooked on the stove until thick enough to coat the back of spoon.
After, I added the Nutella knock-off, strained the mixture through a fine-mesh sieve to ensure a smooth finished ice cream, chilled it over an ice bath, and transferred the mixture to a refrigerator. Once completely chilled, I froze the completed base using my Kitchen Aid ice cream maker attachment.
The end result is a very creamy ice cream that isn't nauseating like Cold Stone and has the perfect amount of hazelnut flavor.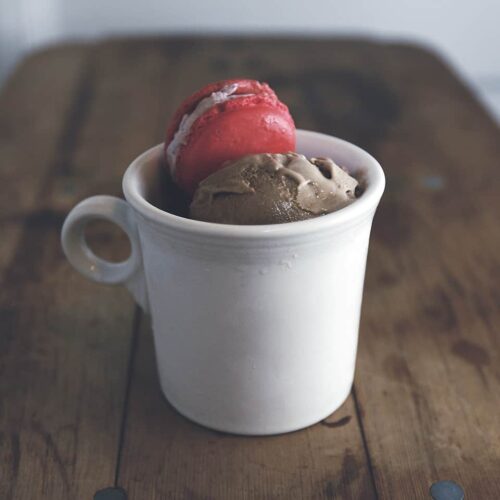 Hazelnut Ice Cream
Ingredients
16

fl oz

whole milk

16

fl oz

heavy cream

8

egg yolks

½

cup

sugar

½

cup

chocolate-hazelnut spread

¼

tsp

kosher salt

1 ¼

cup

hazelnuts

,

skins removed and coarsely ground
Instructions
Pre-heat the oven to 350°F. Bring 3 cups of water to a boil in a medium saucepan. Add baking soda and nuts to the water and boil for 3 minutes. Note: the water will turn black from skins. Rinse the nuts under cold water and use your fingers to remove the skins. Pat dry with a kitchen towel. Spread hazelnuts on a baking sheet and toast in oven for 8 to 10 minutes. Let cool completely and coarsely grind.

Combine the milk, cream, 1 cup of the ground hazelnuts, salt and half of the sugar in a saucepan. Bring the mixture to a simmer over medium heat, stirring constantly, 7 to 10 minutes.

Remove the saucepan from the heat, cover the pan, and allow it to steep for 60 minutes. Strain the mixture through a sieve, pressing hard on the solids. Reserve the infused milk and discard the solids. Return the milk mixture to a simmer.

Meanwhile, blend the egg yolks and the remaining sugar with a whisk in a large bowl until pale yellow.

Temper 1/2 of the hot milk mixture into the egg yolks, whisking constantly.

Return the tempered egg mixture to the suace pan with the remaining hot liquid, stirring constantly over medium heat until the mixture is thick enough to coast the back of a spoon, about 3-5 minutes. If using an instant read thermometer, it should read around 170ºF (77ºC).

Remove the saucepan from heat, add the chocolate-hazelnut spread and whisk until dissolved.

Strain the ice cream base into a metal bowl. Immediately, transfer the bowl to an ice bath, stirring occasionally until cooled.

Cover and refrigerate until completely cooled, at least 10 hours.

Process the base in an ice cream maker according to the manufacturer's directions. Fold remaining ¼ cup ground hazelnuts into the ice cream. Pack the ice cream in storage containers and freeze for several hours before serving to harden.
Nutrition
Calories:
316
kcal
Carbohydrates:
20
g
Protein:
5
g
Fat:
24
g
Saturated Fat:
15
g
Cholesterol:
189
mg
Sodium:
92
mg
Potassium:
164
mg
Fiber:
1
g
Sugar:
17
g
Vitamin A:
823
IU
Vitamin C:
1
mg
Calcium:
104
mg
Iron:
1
mg
Sorry, we couldn't find any posts. Please try a different search.