Is kale "over" yet? I can't tell. Foodies, chefs, and magazines alike have pronounced kale dead for what, like, the past three years now?
I mean this stuff is still everywhere, but McDonald's is rolling out kale on their menus so that's a pretty good sign something's peaked. Last time I checked McDonald's chased trends not invented them.
Well, whatever, kale is still delicious. I, for one, shall continue to eat kale – cool or not.
But, just because something is everywhere doesn't mean we can't try to innovate a little. Enter this charred kale Caesar salad with anchovy breadcrumbs.
Yes, that's right. It is crunchy kale, slathered in Caesar dressing, and topped with pungent, fishy, bready goodness. Trust me. It's good.
First, whiz some stale bread in a food processor until coarse. Saute until crispy in some olive oil with lots of garlic and anchovies. Set aside and try not to eat them all as a snack. I know, you're asking, "Who eats fish-flavored breadcrumbs as a snack?" I do.
While the breadcrumbs sit out of snacking reach, mix up the Caesar dressing. Nothing unique here, but I like to include lots of anchovies and lemon juice for an almost bracingly bright dressing. It works well with the kale.
Now, let's talk about grilled kale. We could slice it up and toss it with the dressing and breadcrumbs and that would be fine – really, it would. But, a few minutes on an open grill turns this kale into magic. It's charred, crispy, and it amps this salad up with smokey crunch.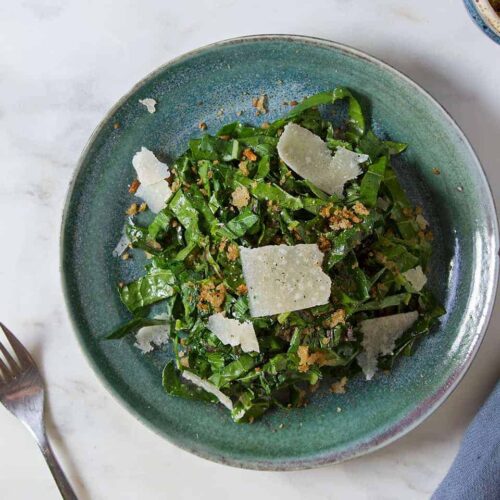 Grilled Kale Caesar Salad
Try this crunchy, charred kale Caesar salad slattered in a creamy dressing and topped with garlicky, anchovy breadcrumbs. Trust me. It's good.
Ingredients
5

whole

oil-packed anchovies fillets

1

clove

garlic

,

smashed and peeled

¼

cup

2

oz

lemon juice

3

Tbsp

Dijon mustard

1

large

egg

1

cup

8

oz

sunflower or grapeseed oil

1

oz

Parmesan cheese

,

finely grated

2

bunches

lacinato kale

,

washed and chilled

Kosher salt

Freshly cracked pepper
Anchovy Breadcrumbs
5

whole oil-packed anchovies fillets

2

cloves

garlic cloves

,

smashed and peeled

1

cup

coarse fresh breadcrumbs

,

made from crustless country bread
Instructions
Prepare the anchovy breadcrumbs before making the salad.

On a cutting board, mince the garlic and anchovies together. Use the back side of a kitchen knife to mash them into a paste. Tilt the knife at an angle to the cutting board and drag it over the garlic and anchovies, scraping it across the surface of the board. Mound the ingredients together and repeat until a rough paste forms.

Heat about 2 tablespoons of olive oil in a large nonstick skillet over medium heat. Add anchovy-garlic paste and sauté until fragrant, about 2 minutes. Add the breadcrumbs and cook until golden, about 5 minutes more. Transfer to a plate and let cool.

Add the anchovies and garlic to the bowl of a small food processor and pulse into a rough paste. Add the lemon juice, mustard, and egg to the paste and process until smooth. With the motor running, gradually drizzle in the oil. Pour steadily and slowly at first to really emulsify everything. Once the dressing looks creamy, you can pour a little faster. Continue to process until everything is smooth and creamy. Mix in the Parmesan. Scrape the dressing into a bowl, cover with plastic wrap, and store in the refrigerator up to 3 days.

Heat a charcoal grill or grill pan to medium heat. While the grill is heating, trim away the bottom third or so of both bunches of kale to remove the thick, tough stems.

Thinly slice one of the heads of kale into ribbons and chill in the refrigerator. Toss the other of the head of kale with olive oil and cook on the grill until slightly charred and wilted, about 2 to 3 minutes each side. Remove from the grill and transfer to a cutting board. Thinly slice into ribbons and set aside.

In a large mixing bowl, add the chilled, uncooked kale. Pour in about 1/2 cup of dressing and gently mix together with your hands. Toss in the grilled kale and give it a gentle mix. You want to see the charred kale so don't over mix it.

Transfer the dressed kale to a large platter or individual plates. Scatter a generous amount of anchovy breadcrumbs on top, sprinkle with a pinch of salt and a lot of fresh cracked pepper, and top with some freshly shaved or grated Parmesan. Serve immediately.
Nutrition
Calories:
543
kcal
Carbohydrates:
20
g
Protein:
11
g
Fat:
49
g
Saturated Fat:
6
g
Cholesterol:
45
mg
Sodium:
520
mg
Potassium:
614
mg
Fiber:
1
g
Sugar:
1
g
Vitamin A:
10887
IU
Vitamin C:
135
mg
Calcium:
274
mg
Iron:
3
mg