The BLT is a classic sandwich that graces the plates of from cafes to diners, pubs to home. But, is there room between that toasty bread for interpretation?
No. The answer is unequivocally, no. The BLT is not a democratic food. I mean, come on, the recipe is in its name! M, it's a perfect sandwich of bacon, lettuce and tomato. Anything else however delicious, however mouthwatering, is just simply not a BLT. Even Google's got my back here. The first search result for "BLT Variation" is the chicken club sandwich. Not a BLT.
So, that BLT with tomato jam from that darling Parisian bistro? Not a BLT. Showering your BLT in microgreens because Pinterest said you can't even? No. Substituting kale because ZOMG POWER GREENS? Nope, not a BLT. Adding ingredients to make a BLAT, BLERT, or BLART? Don't you dare.
FACT: I once reneged on these golden rules and ordered a BLT with salmon and avocado at a cafe and was required to clarify that I would like the "BLAST". I've hated myself ever since. True story.
The key to a seriously good, classic BLT Sandwich is to keep simple. Keep it a B-L-T. Take the best quality tomatoes you can find, season them with salt and pepper, and stack them up between toasted bread with bacon and lettuce, and mayo. Doesn't get more simple than that.
Let's break it down.
How to make a Classic BLT
The BLT is a tomato-forward sandwich that is best made in the Summer when tomatoes are at their peak. I look for the best quality ones I can find and usually reach for the heirloom tomatoes from my local Farmer's Market. More traditional beefsteak tomatoes work well, too. Just make sure they are ripe. Also, don't forget to salt those tomatoes. Salt accentuates the flavor of food and adds that little extra "pop."
Now, the bacon. I love thick-cut bacon fried slowly, so the fat renders leaving crispy, porky goodness. When you bite into a BLT, you want to hear that bacon crunch. Also, do yourself a favor and reserve the bacon grease and use it to fry the bread. This is a game-changer. For bread, I reach for a good-quality sourdough and avoid dense, chewy options like focaccia (albeit delicious). Also, I prefer thinner rather than thicker slices. The bread is there to act as a toasty means of conveyance from plate to mouth, not the star of the show.
Iceberg lettuce for crunch. It's non-negotiable. Move on.
For mayo, I prefer homemade or a Japanese-style mayo like Kewpie. Most store-bought varieties are great, and if you like it, I say use it. But Kewpie is a little smoother and tangier than traditional mayo and is my go-to.
The only thing left is to stack up the BLT, cut into triangles, and enjoy.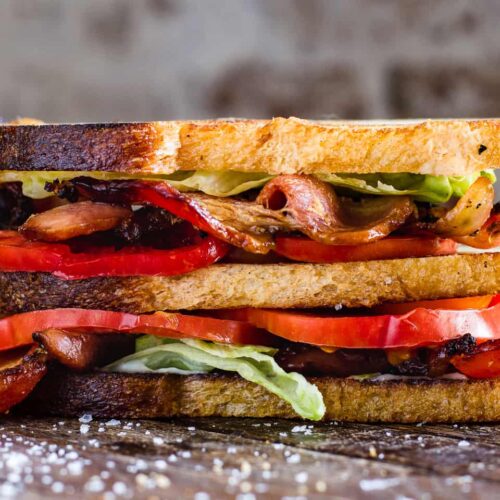 Classic BLT Sandwich
The key to a perfect, classic BLT sandwich is to keep simple with in-season tomatoes stacked between toasty bread with thick-cut bacon, lettuce, and a smear of mayo.
Ingredients
3

slices

naturally cured bacon

,

thick-cut

2

slices

sourdough bread

2

Tbsp

30

ml

Japanese mayo

,

Kewpie or your favorite brand

2

leaves

iceberg lettuce

3

slices

ripe tomato

,

best-quality (such as an heirloom varietal)

flaky, crunchy salt

,

such as Fleur de Sel or Maldon

Freshly cracked black pepper
Instructions
Fry the bacon in a cast-iron skillet over medium-low heat until the bacon is browned on both sides and the fat has rendered, about 3-4 minutes per side. Transfer the bacon to a paper towel–lined plate and set aside.

Toast the bread in the same skillet with the bacon fat over medium-low heat until golden brown. Flip and brown the second side.

Move the bread to a cutting board and spread the mayonnaise on both pieces. Stack the lettuce on one piece of bread and then top with the tomato slices before sprinkling generously with coarse salt and freshly cracked pepper. Layer the bacon onto the sandwich, breaking the pieces in half if they don't fit. Top with the remaining slice of bread and cut in half diagonally.

Serve immediately.
Nutrition
Calories:
743
kcal
Carbohydrates:
74
g
Protein:
24
g
Fat:
38
g
Saturated Fat:
10
g
Cholesterol:
57
mg
Sodium:
1496
mg
Potassium:
164
mg
Fiber:
3
g
Sugar:
4
g
Vitamin A:
80
IU
Calcium:
56
mg
Iron:
5
mg