This chilled soup captures the pure flavor of corn at its peak. I also love how the addition of the not-too-spicy shrimp salad plays off the clean flavor of the corn and makes this soup a little more substantial. If you want to make a meal out of this, serve with a simple salad of mixed greens.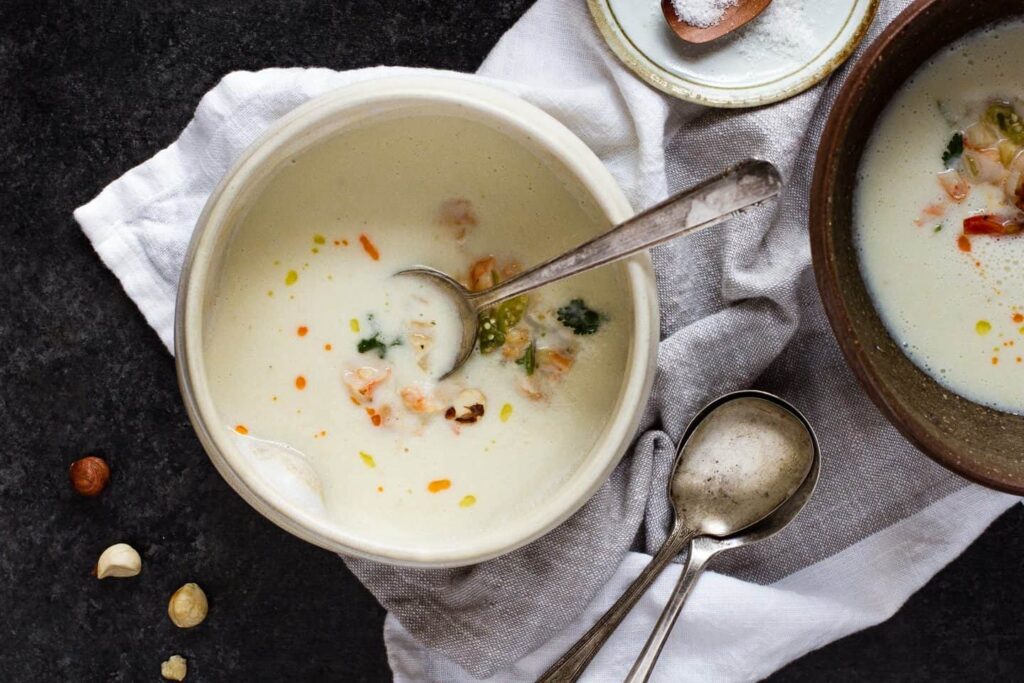 I can mark the height of summer by the abundance of sweet corn that fills the stalls of my local Farmer's Market. And, while it's wonderful boiled and grilled, of all its uses, I prefer it raw. The sugary crunch of the raw kernels is every bit as satisfying as a charred ear slathered in mayonnaise and cheese.
While this corn soup and shrimp salad takes a little bit longer to make than other recipes, it's worth the wait. It also uses easy to find ingredients and simple steps, making this recipe easy enough for newer cooks, yet delicious and complex tasting enough for more seasoned chefs.
Simple Corn Stock
Sometimes the simplest recipes get over complicated. To make a corn soup that actually tastes like fresh corn, I use a combination of corn stock, fresh corn kernels and a little diced onion. That's it.
The key to this soup is to use the fresh corn kernels, which are loaded with sugar. Seek out freshest corn as possible. Once corn is picked, it begins to lose its sweetness as the sugars convert into starch.
How To Make Corn Stock
Corn stock is a simple, rich way to add flavor to a variety of recipes. It's surprisingly easy to make, too. All you need is water and corn cobs with the kernels removed. For this particular recipe, you'll need 6 cups of water and 5 corn cobs, but this can easily be doubled or tripled if you'd like more.
Add your corn cobs and water to a large stock pot. Bring the water to a boil, then reduce the heat to allow to stock to simmer. Cook for 30 minutes, then strain the stock into heat-proof jars. You can store your corn stock in the fridge for a week or freeze it in batches to thaw as needed.
More Summer Recipes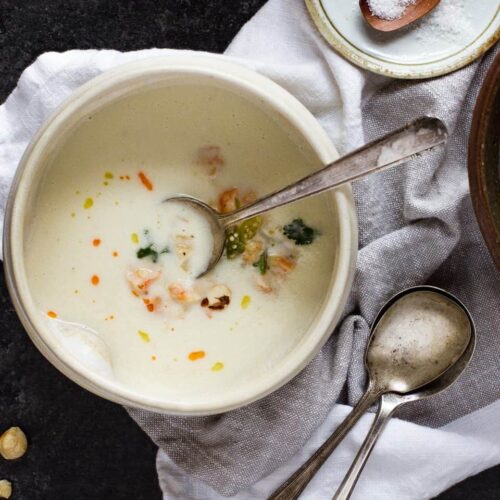 Summer Corn Soup with Shrimp Salad
This chilled soup with not-too-spicy shrimp is the perfect way to use corn at its peak
Ingredients
2 1/2

cups

corn kernels

,

from about 5 ears of corn, reserving the corn cobs

6

cups

water

3

tablespoons

unsalted butter

1

large yellow onion

,

about 1 cup, finely chopped

4

tablespoons

heavy cream

2

teaspoons

kosher salt

,

plus more to taste

1

teaspoon

black pepper

,

freshly cracked, plus more to taste

2

tablespoons

olive oil

1/2

pound

shrimp

,

peeled and deveined

1

large

tomatillo

,

husk removed, skin washed, and finely diced

2

tablespoons

fresh lime juice

,

from about 1 lime

1

teaspoon

chili oil

,

store-bought, plus more for garnish

1/4

cup

hazelnuts

,

finely chopped
Instructions
In a large stock pot, bring the corn cobs and water to a boil. Reduce to a simmer and cook for 30 minutes. Strain the corn stock into a heat-proof jar.

In the same stock pot, sauté the onion over medium-low heat in 3 tablespoons of butter until soft and translucent, about 10 minutes. Add the corn and a generous pinch of salt and sauté for 5 more minutes. Add 40 oz (5 cups) of the corn stock, bring to a boil, and then simmer until the corn is very soft, about 20 minutes more.

Remove the pot from heat and purée until smooth using a blender or an immersion blender. Strain through a fine-mesh sieve into a large bowl pressing down on the solids with a wooden spoon to extract as much flavor as possible before discarding the solids. Stir in the heavy cream and salt and pepper. Check the soup for consistency and flavor. It should have the consistency of heavy cream, and you should taste the salt. If the soup is too thick, thin it using any leftover stock or water. Cover the bowl and chill the soup until cold, at least 2 hours.

While the soup chills, prepare the shrimp salad. If using shell-on shrimp, use small scissors to cut shells along the curved backs. Remove the veins and then the shells. Season the shrimp with a generous pinch of salt. In a heavy-bottom pan, heat olive oil over high heat. Sear the shrimp until opaque and slightly charred, about 2-3 minutes on the first side and 1 minute on the second side. Chop the shrimp into bite-sized pieces and add to a bowl with the tomatillos. Squeeze the lime over the seafood mixture, drizzle in the chili oil, and toss to coat. Add the cilantro and give it one more toss. Taste it and season with additional salt and pepper.

To serve, divide the soup among bowls and top with the shrimp salad. Sprinkle a pinch of hazelnuts over the salad and drizzle the soup with additional chili oil, if desired.
Nutrition
Calories:
280
kcal
Carbohydrates:
19
g
Protein:
11
g
Fat:
19
g
Saturated Fat:
7
g
Cholesterol:
124
mg
Sodium:
1240
mg
Potassium:
242
mg
Fiber:
3
g
Sugar:
4
g
Vitamin A:
372
IU
Vitamin C:
7
mg
Calcium:
83
mg
Iron:
2
mg
Sorry, we couldn't find any posts. Please try a different search.