From ball games to beer halls, soft pretzels are a salty, snacking staple. Most of the time, pretzels come adorned in salt and accompanied by never-enough spicy mustard and cheese sauce. But, these are based on an unexpected twist I found while in Turin, Italy — pretzels with speck and gruyère.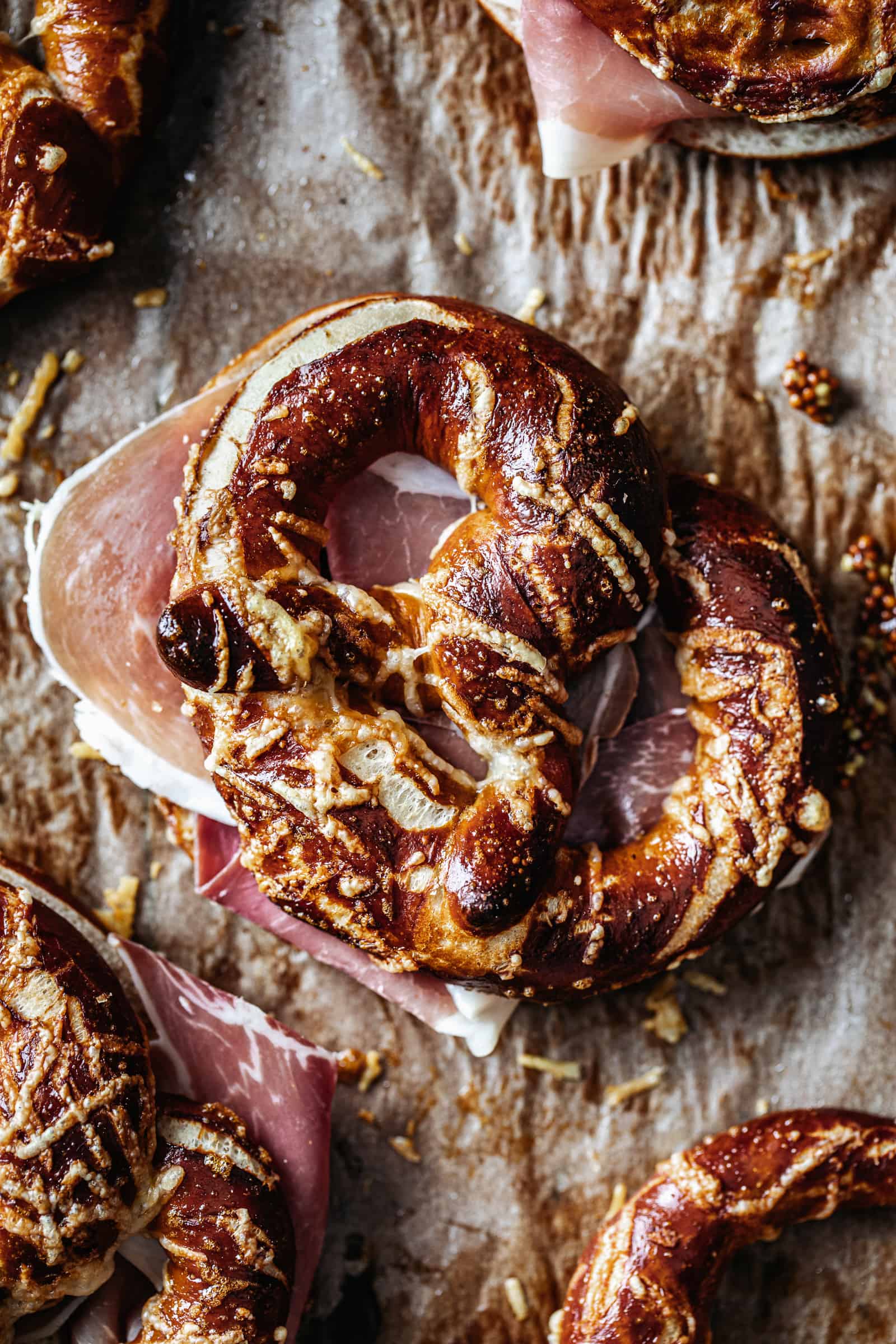 An unexpected twist in Turin, Italy
The winter market was filled with them. Stacks and stacks. Shiny on the outside and chewy on the inside, the pretzels were flecked with gruyere, sliced open, and layered with speck. If you don't know, speck, like prosciutto, is a cured meat but has the additional pleasure of being smoked. The result is a dense, chewy texture and a deep flavor. And, it is absolutely perfect paired with salty pretzels.
I honestly don't know why these aren't more popular here in the states — especially my hometown of Philadelphia — because soft pretzels are surprisingly easy to make and addictively delicious. Try one with a cold beer!
Let's break down some key details.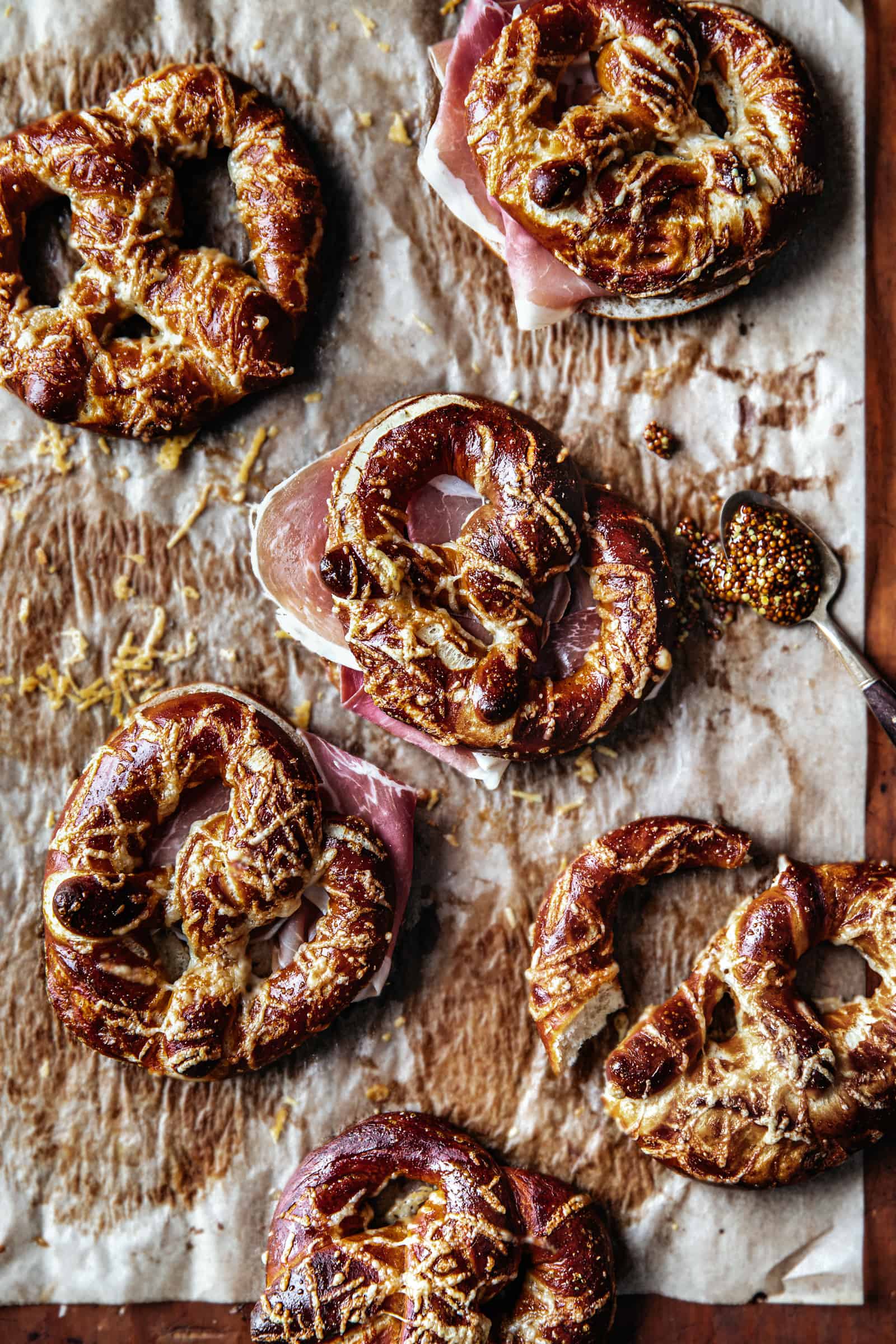 Why are soft pretzels boiled before they are baked?
Traditionally, pretzels were boiled in food-grade lye, an alkaline solution that gives pretzels their pretzel-ness. Thankfully, we can swap corrosive lye for baking soda and a good pilsner for equally good results. A quick dip, around 15 to 30 seconds, is enough for dark and intensely flavorful pretzels.
How to store leftovers (if there are any)?
Frozen soft pretzels hold up reasonably well for a few months. Just thaw and reheat in a 300°F (149°C) oven until warm. I like to make a double batch and freeze half for later.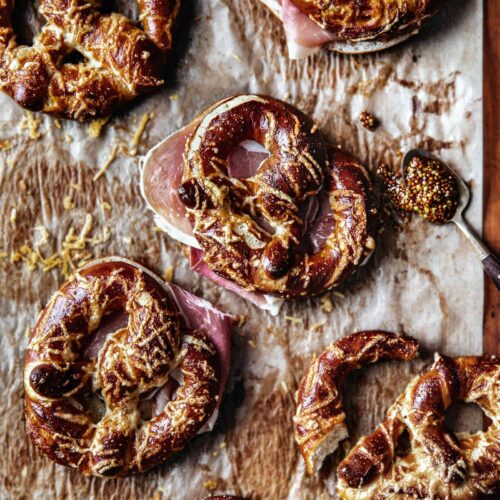 Homemade Soft Pretzels with Speck and Gruyère
Shiny on the outside and chewy on the inside, these homemade soft pretzels are flecked with gruyère cheese, sliced open, and layered with smoky speck.
Ingredients
½

cup

110

g

dark brown sugar

,

divided in two

1

cup

8

oz

warm water

,

between 105-110°F

2 ¼

tsp

7

g

active dry yeast

,

1 package

3 ½

cup

420

g

bread flour

,

spooned and leveled

1

rounded Tbsp

coarse kosher salt

4

Tbsp

55

g

unsalted butter

,

meleted and cooled

1

cup

8

oz

beer

,

a pale ale or german style pilsner

½

cup

120

g

baking soda

nonstick cooking spray

1

egg yolk

½

cup

60

g

gruyere cheese

,

finely grated

4

oz

115

g

speck
Instructions
In a 1-quart glass jar, mix ¼ cup [55 g] dark brown sugar with 1 cup [8 oz] warm water until dissolved. Add 2 ¼ tsp [7 g] yeast and stir gently. Let sit until frothy, about 5 minutes.

In the bowl of a stand mixer, add 3 ½ cups [420 g] flour and 1 rounded Tbsp coarse kosher salt and mix with your hands.  Add 4 Tbsp [55 g] melted unsalted butter and the yeast mixture to the flour and knead with a dough hook on medium speed until smooth and elastic, about 5 to 6 minutes. Shape the dough into a ball, return to the mixing bowl, cover with plastic wrap, and let rise in a warm place for 1 hour. Alternatively, cover and refrigerate overnight, about  6 to 8 hours.

Line two baking sheets with parchment and spray generously with nonstick cooking spray. Turn the dough out on a work surface and divide into 12 equal pieces. Roll each piece into a 22-inch coil leaving the center a little thicker. Shape the pretzels by placing the dough in a U-shape in front of you. Cross the two ends and repeat once more. Fold the twisted ends over itself and press down into dough to form the pretzel shape. Transfer to the prepared baking sheets. For that classic look, use a sharp paring knife or razor blade to make a 1/4 inch deep slit in the thickest part of each pretzel. Adjust the shape as needed and repeat with the remaining coils. Gently cover the pretzels with plastic wrap and let rise until noticeably puffy, about 20 to 30 minutes.

Preheat the oven to 450°F (232°C) with the racks placed in the top third. Bring 7 cups [56 oz] of water, 1 cup [8 oz] beer, the remaining ¼ cup [55 g] brown sugar, and ½ cup [120 g] baking soda to a boil in a medium pot. Simmer each pretzel, one at a time, in the water for about 30 seconds using a wide slotted spoon or spatula to submerge them. Transfer back to the prepared baking sheets using a slotted spoon. Once all the pretzels are ready, lightly beat an egg yolk in a small bowl and brush with the egg wash. Sprinkle each with finely grated gruyere cheese.

Bake until the pretzels are nice and dark brown all over, about 10-15 minutes. Transfer to a wire rack and let cool slightly. Slice the pretzels in half, layer some speck, and sandwich back together. Serve warm.
Notes
Up to 3 months or the day before: The pretzel dough can be refrigerated for up to one day or frozen in an airtight container for 3 months. Thaw the frozen dough in the refrigerator overnight.

Day of: Form and bake the pretzels. Freeze leftovers in an airtight container for up to 3 months and reheat in a 300°F (149°C) oven until warm.

If you double the recipe you don't need to double the poaching liquid.
Nutrition
Calories:
267
kcal
Carbohydrates:
35
g
Protein:
7
g
Fat:
10
g
Saturated Fat:
5
g
Cholesterol:
39
mg
Sodium:
2037
mg
Potassium:
78
mg
Fiber:
1
g
Sugar:
9
g
Vitamin A:
192
IU
Calcium:
71
mg
Iron:
1
mg
Sorry, we couldn't find any posts. Please try a different search.