Strangolapreti are winter food perfected.
These bright green dumplings are hearty, filling, and need nothing more than a drizzle of melted butter or a few ladles of rich chicken stock. They are exactly the type of soul-warming Italian comfort food you would expect everyone's quintessential nonna to serve on a bleary, snowy evening.
Strangolapreti originated in Trentino and the cold, mountainous regions in Northern Italy. These spinach dumplings, unlike their potato-based cousins, are made with finely ground breadcrumbs as a creative way to utilize stale, leftover during the harsh winter months.
The name "strangolapreti", is…well…not cheery…to say the least. Uncheery even. It's a variation of strozzapreti another Italian pasta, which roughly translates to "priest stranglers". Stories vary, but legend tells of a clergy of priests who enjoyed these dense, hearty dumplings so fast that they ate too quickly and choked. Another version is that they are large enough to choke a person if eaten whole.
Nice huh?
This recipe comes from the enormously talented Jenn Louis and her wonderful book Pasta by Hand. Her traditional version is similar to other bread-based dumplings like canederli and are comprised of breadcrumbs, greens, flour, egg, and cheese. You need a little bit of a delicate hand when adding the flour. Gently knead the dough until combined. Otherwise, they will be too heavy.
Serve them immediately because it is damn cold outside and you can use some comfort right about now.
What worked: Simple and straightforward, these dumplings can be made and frozen in advance for a quick weeknight dinner.
What didn't: Next time I would take Jenn Louis's suggest and ladle hot chicken stock over the dumplings to serve as soup.
Know this: You can also use thawed frozen spinach, just make sure to wring out the excess liquid using a kitchen towel.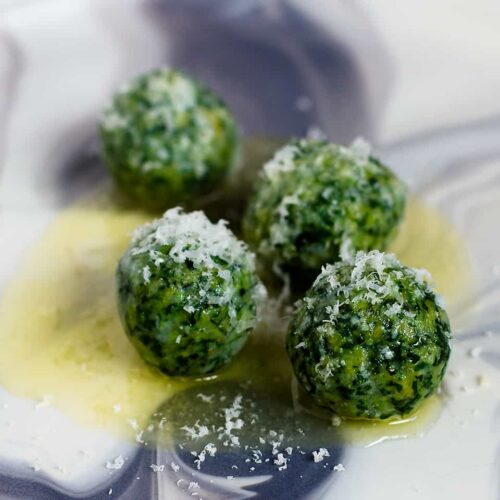 Strangolapreti with Breadcrumbs
Strangolapreti are winter food perfected. These bright green dumplings are hearty, filling & need nothing more than a drizzle of butter and grated cheese.
Ingredients
1/2

cup

60

g

dried breadcrumbs

10

oz

fresh spinach

,

stemmed

1

large

egg

1/4

tsp

0.25

tsp

kosher salt

1/4

tsp

0.25

tsp

freshly ground black pepper

Freshly grated nutmeg

1/3

cup

30

g

finely grated aged pecorino cheese

1/3

cup

45

g

all-purpose flour

,

plus more for dusting

4

Tbsp

unsalted butter

,

melted

Finely grated parmigiano-reggiano cheese
Instructions
In the bowl of a food processor, process the breadcrumbs until finely ground and set aside.

Prepare and ice bath by filling a large bowl with ice and cold water. Bring a large pot filled generously salted with water to a boil over medium-high heat. Add the spinach and blanch until wilted, about 2 minutes. Remove immediately from the pot with tongs and transfer to the ice bath. When cool, drain the spinach into a colander. Place the spinach in a kitchen towel and wring until mostly dry.

Finely chop the spinach and place in a medium bowl. Add the egg, the salt and pepper, a few swipes of nutmeg, the pecorino cheese, and the breadcrumbs and mix with your hands until just combined. Add the flour and gently knead until combined.

Line a baking sheet with parchment paper and lightly dust with flour. Put about 70 g (1/2 cup) flour in a shallow bowl. Using two large spoons, scoop enough dough to make a dumpling a little smaller than a golf ball. With your hands, gently roll the dough into a compact ball and roll in the flour to coat. Put the strangolapreti on the prepared baking sheet and shape the remaining dumplings.

When all the strangolapreti are formed, shake the baking sheet to roll the pasta around in the flour to evenly coat. Refrigerate uncovered for at least an hour.

Bring a large pot of generously salted water to a simmer over medium, high heat. Add the strangolapreti and simmer until tender, 1 to 3 minutes. They will not float.

Remove immediately with a slotted spoon and divide among four bowls. Finish with melted butter and a grating of Parmigiano-Reggiano cheese.
Nutrition
Calories:
262
kcal
Carbohydrates:
20
g
Protein:
9
g
Fat:
16
g
Saturated Fat:
9
g
Cholesterol:
91
mg
Sodium:
422
mg
Potassium:
452
mg
Fiber:
2
g
Sugar:
1
g
Vitamin A:
7110
IU
Vitamin C:
19.9
mg
Calcium:
195
mg
Iron:
3.4
mg