November may be synonymous with turkey and gravy, but we've always liked to do things a little differently. Here, we give you our spin on the traditional holiday dinner: a sophisticated, pan-seared dish that's as easy as it is elegant, featuring our new Iwachu Cast Iron Pan.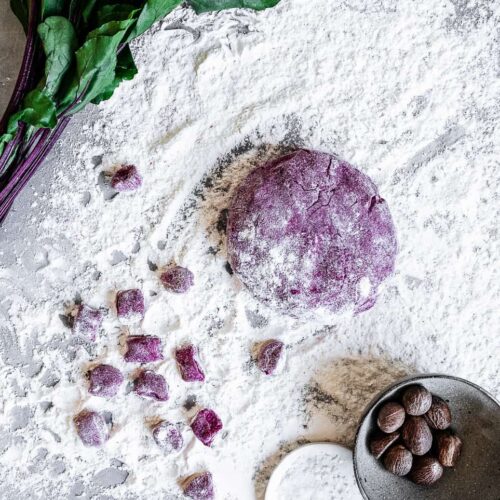 Beet Gnocchi with Sage Browned Butter
Beet gnocchi are an earthy — yet just as fluffly — twist on the traditional Italian dumpling. Try these tonight with herby sage browned butter.
Ingredients
Pan-Fried Beet Gnocchi
3

small

300

g

red beets

,

greens removed and trimmed

1/2

large

egg

,

beat a whole egg then pour out half

3

tbsp

extra-virgin olive oil

,

plus more for drizzling

1

large

300

g

russet potatoes

1.75 cups

cups

250

g

all-purpose flour

,

plus 1/2 cup [75 g] more for dusting

1/2

small

nutmeg

kosher salt

freshly ground black pepper

semolina flour

,

for dusting

2

Tbsp

unsalted butter
Sage Browned Butter
3/4

cup

170

g

unsalted butter

12

fresh sage leaves

1

Tbsp

fresh lemon juice

1

tsp

kosher salt

1

chunk

pecorino cheese

,

for grating
Instructions
Pre-heat the oven to 350°F. Drizzle the beets with olive oil, season lightly with salt and pepper, and then wrap in aluminum foil. Roast in the oven until the beets can be easily pierced with a skewer, about 60 minutes. Remove from the oven, uncover, and set aside to cool. While still warm but cool enough to handle, slip the skins off with your hands and cut into large chunks. In a blender or food processor, pulse the beets, egg, and 1 Tbsp olive oil scraping down the sides of the bowl several times until the mixture starts to move. Process until very smooth.

In a medium pot, cover the unpeeled potato with cold water. Bring to a boil over high-heat and cook until the potato can be easily pierced with a skewer, 25-30 minutes. Drain and, using a kitchen towel to hold the potato, peel and discard the skins. While the potato is still warm, pass through a potato ricer into a large bowl. Add the beet puree, flour, nutmeg, and 1 tsp salt and mix with your hands until the dough comes together.

Line a baking sheet with parchment paper and dust with semolina flour. Dust a little under 1/4 cup [25 g] of flour onto your work surface, then scrape the dough onto the flour. Gather the dough together into a ball and gently knead to incorporate the flour. The dough should be soft, but not sticky.

Cut off a golf ball sized chunk of dough and cover the rest with a kitchen towel. Dust your work surface with some of the remaining flour if necessary. Using your hands, roll the dough into a log 1/2-inch in diameter. Try not to incorporate too much of the flour and only just enough so that the dough doesn't stick. Cut the log into 1/2-inch pieces. Transfer the gnocchi to the prepared sheet pans and repeat with the remaining dough.

Prepare a bowl of ice water. Bring a large pot of heavily salted water to a simmer over medium-high heat. Add the gnocchi and simmer until they float about 2-3 minutes. Using a slotted spoon, immediately transfer the gnocchi to the ice water and cool for 30 seconds to stop the cooking. Transfer to a kitchen towel and pat dry.

In a large skillet, heat 2 Tbsp of olive oil and 2 Tbsp of butter over medium-high heat. Add the gnocchi, in batches if necessary to prevent crowding, and cook until browned, about 5 minutes. Transfer to a large platter.

In a small saucepan, heat the 3/4 cup [170 g] butter and sage leaves over medium-low heat until the butter starts to brown, about 5-8 minutes. Remove from heat and stir in the lemon juice and 1 tsp salt. Add the gnocchi to the sauce and toss to coat. Spoon onto a platter, finely grate some pecorino over the top, and serve immediately.
Notes
Work the dough gently. If you over knead the dough, the gnocchi will turn out rubbery.
This recipe was created in partnership with Rikumo. All photos by Chris Setty.