Beet pots de crème are like those instant pudding packs but with much more #adulting.
So much more.
These little beet custards are luxuriously creamy with earthy undertones and just sweet enough. I like to serve mine with a dollop of refreshing crème fraîche whipped cream and crunchy bee pollen and cocoa nibs, which adds texture and compliments the beets.
See? #adulting.
So, what's the difference between pudding and pot?
A pot de crème — pronounce POH-de-KREM — is a French custard made from eggs, milk, cream, and sugar. Unlike stovetop pudding, which often uses cornstarch, the egg mixture is poured into small jars and then baked in a water bath until just set.
The result is an utmost delicious French custard around.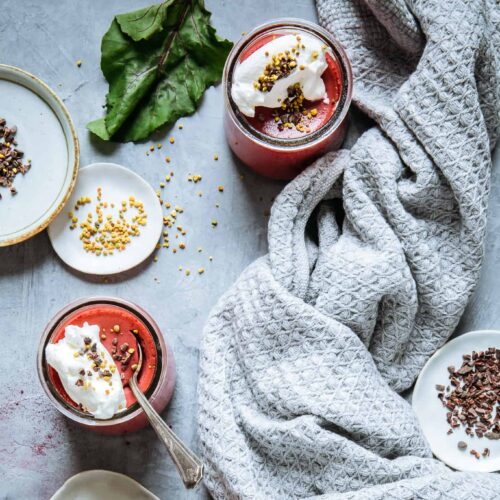 Beet Pots de Crème with Crème Fraîche Cream
Beet Pots de Crème are like instant pudding but #adulting. These little beet custards are luxuriously creamy with earthy undertones and just sweet enough.

Ingredients
BEET POTS DE CRÈME
2

cups

16

fl oz

heavy cream

1/2

cup

100

g

dark brown sugar

1/2

tsp

0.5

tsp

kosher salt

1/2

vanilla bean

,

split lengthwise

6

egg yolks

1

cup

8

fl oz

beet juice

2

tsp

beet powder

,

for additional color [optional]
CRÈME FRAÎCHE WHIPPED CREAM
1

cup

8

fl oz

heavy cream

4

Tbsp

crème fraîche

Cocoa nibs

Bee pollen
Instructions
Preheat the oven to 300°F.

Arrange six 6 oz ramekins in a large, shallow baking pan. Put a large kettle of water on the stove and bring to a boil.

In a 2-quart saucepan, combine the cream, brown sugar, salt, and then scrape the seeds from the vanilla bean into the mixture. Warm the cream over medium heat until small bubbles form around the edges, or 170°F. Remove from heat, cover, and steep for 5 minutes.

In a large bowl, whisk together the eggs, beet juice, and beet powder (if using) until smooth. Temper the eggs by slowly adding the warm cream, whisking constantly. Strain the custard through a sieve into a large measuring cup.

Divide the egg mixture among the ramekins. Skim away any foam. Fill the baking pan with hot water until it reaches halfway up the sides of the ramekins. Cover tightly with tinfoil and bake until just barely set and the center still wobbles, about 45-60 minutes. Remove the ramekins from the water bath and transfer to a wire rack to cool. Cover with plastic wrap and refrigerate until firm.

Just before serving, make the whipped cream. In a cold metal bowl, whip the heavy creme until soft peaks form. Stir in the crème fraîche. Top each pot de crème with a spoonful of cream and a sprinkle of cocoa nibs and bee pollen.
Notes
The secret to pots de crème is the water bath, which insulates the custards from the oven's heat ensuring a silky, creamy texture.
To prevent overcooking, remove the custard when it is just set, and the center still jiggles.
Upon first glance, these pots will have a somewhat pallid color. Don't worry, the color will deepen as it sets up in the fridge.
Nutrition
Calories:
570
kcal
Carbohydrates:
26
g
Protein:
5
g
Fat:
50
g
Saturated Fat:
30
g
Cholesterol:
362
mg
Sodium:
271
mg
Potassium:
227
mg
Sugar:
21
g
Vitamin A:
2075
IU
Vitamin C:
2.9
mg
Calcium:
135
mg
Iron:
1
mg