You can't really argue with butter's ability to make food taste great, and these pink peppercorn shortbread cookies are no exception. They can be whipped up at a moment's notice using a simple 1-2-3 ratio that produces perfectly crumbly and oh so buttery shortbread every time.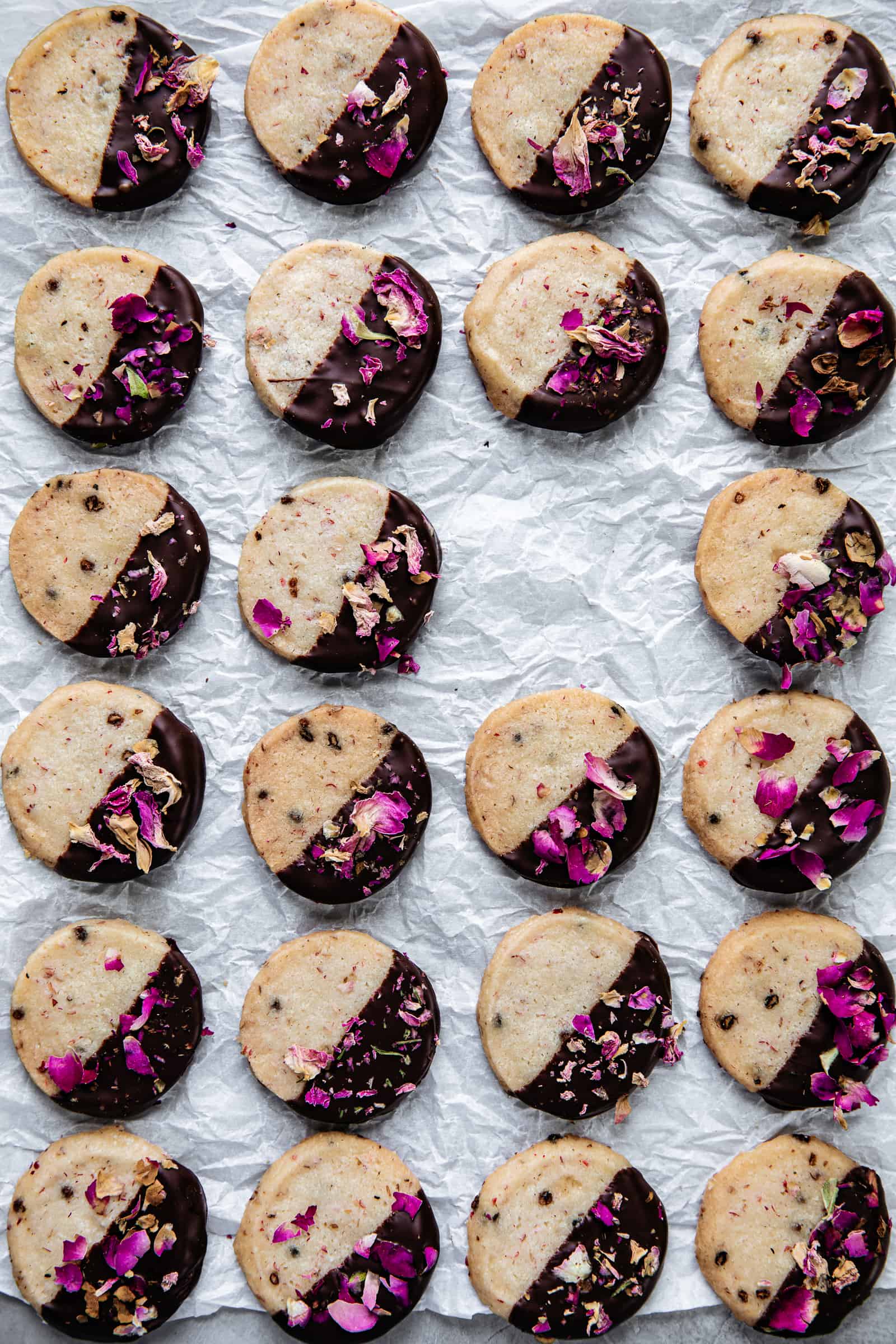 I tend to think of shortbread as a canvas ready for whatever flavor combinations feel right. A splash of rosewater and fragrant sweet pink peppercorns makes these cookies stand out. Better still, a dip in some good-quality dark chocolate makes them unforgettable.
How Do You Calculate Ingredient Ratios?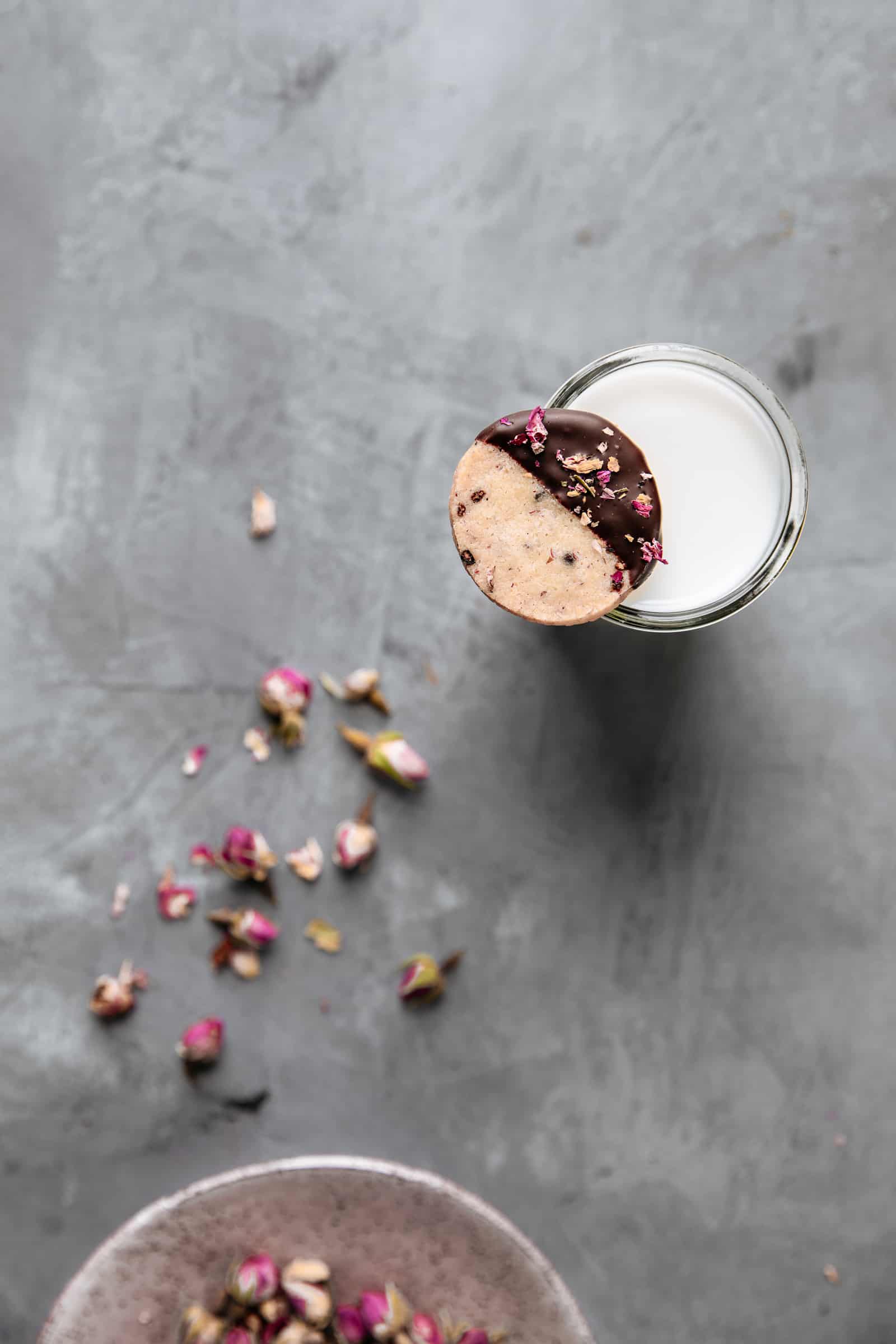 The classic shortbread ratio is 1-2-3 — that means for every part of sugar, you need 2 parts butter and 3 parts flour by weight. You can make a small batch of cookies with 50 g sugar, 100 g butter, and 150 g flour or large quantity with 1 lb sugar, 2 lbs butter, and 3 lbs flour. See? Easy as one, two three!
With this base formula under your belt, you are free to experiment and add spices, zest, nuts, and more. Just keep the amount of liquid to a minimum lest we want soft shortbread.
Hint: we don't.
How To Make Shortbread Cookies From Scratch?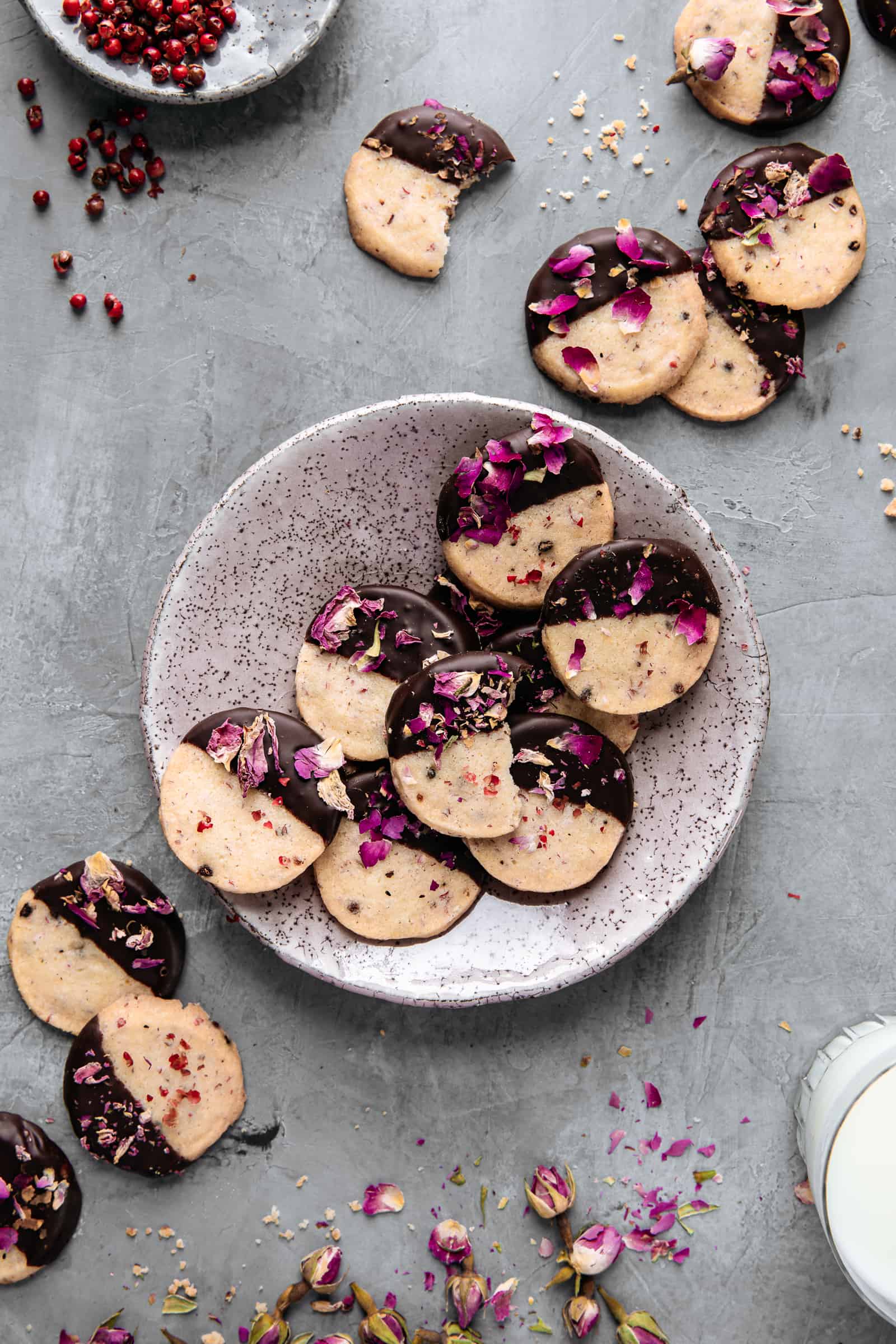 Shortbread cookies are easy to make and only require two steps to form the basic dough.
Start by creaming together softened butter and sugar in a stand mixer until light and fluffy. Please do this for longer than you think as it impacts the texture of the cookie. The butter should become noticeably different in color and texture, changing from wet sand to moist and light, and the sugar will be nearly dissolved. If you rub some of the butter between your fingers, you should barely feel any grit from the sugar.
Next, add the flour. Reduce the speed to low and add the flour, mixing just until the flour is combined. Don't overmix! Overworking the dough won't give us tender shortbread. Mix in the pink peppercorns.
That's it! The dough is ready to be rolled up into a log and chilled before being sliced and baked into cookie perfection.
Spreading and what can we do about it?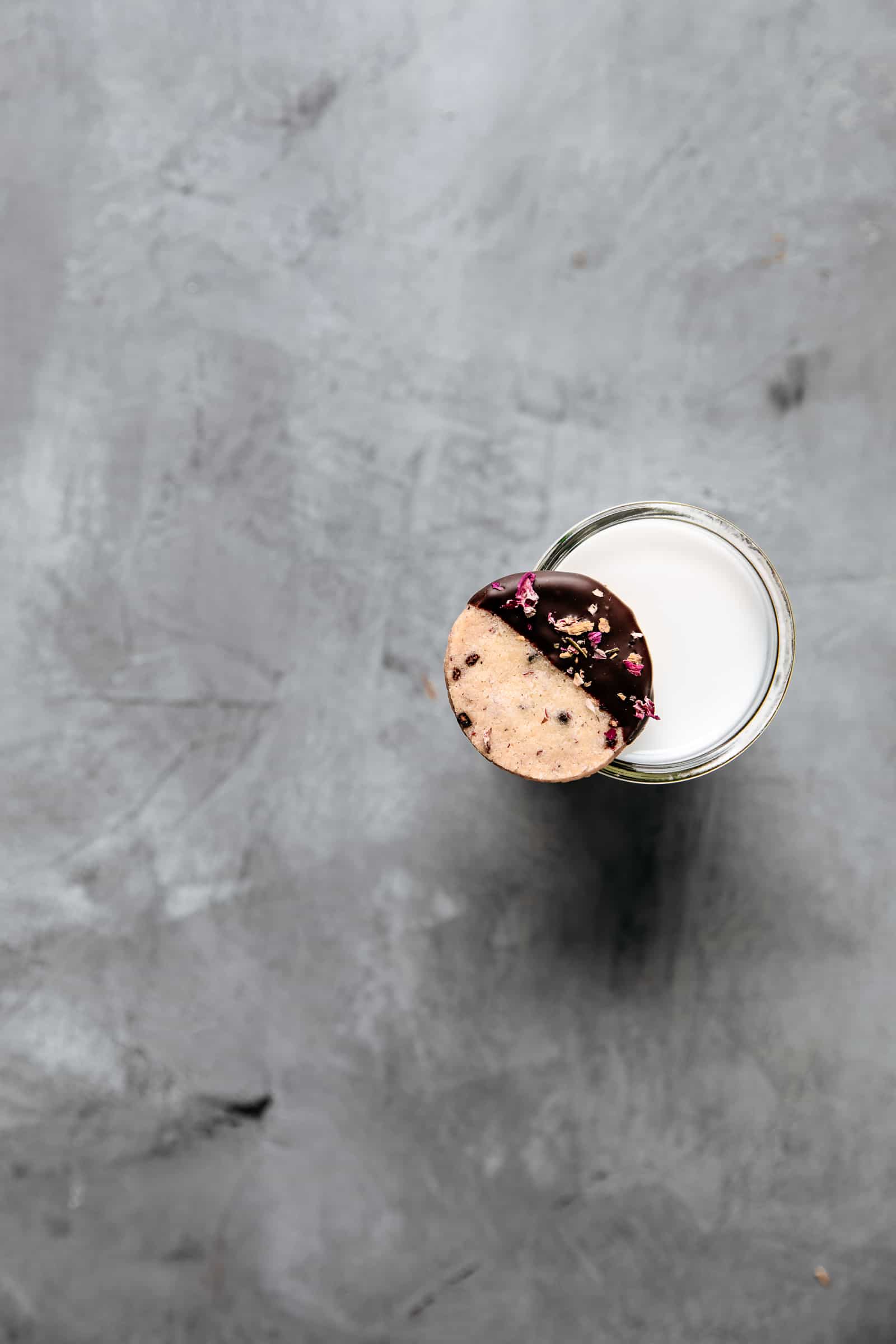 Shortbread contains a lot of butter. That's the shortening in shortbread. It's IN the name. When butter hits a hot oven, it does what butter does and melts, causing the cookie to soften and spread. You can minimize potential spreading by using very cold butter and chilling the dough before baking.
Can I freeze shortbread cookies?
Yes! These pink peppercorn shortbread cookies freeze well baked or unbaked for about 3 months. For unbaked cookies, slice into coins, freeze on a baking sheet, and then store in a freezer bag. Bake at 350°F (177°C) for 15 minutes.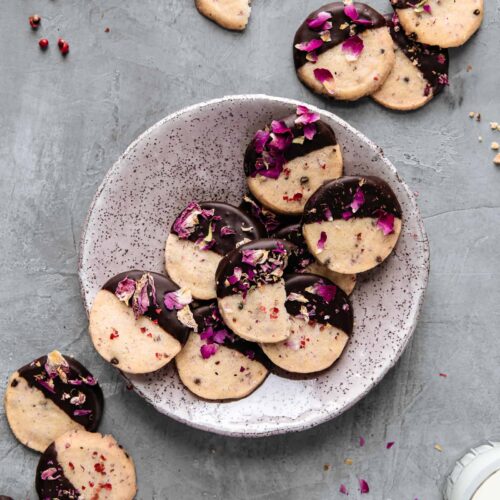 Pink Peppercorn Shortbread Cookies
These pink peppercorn shortbread cookies can be whipped up at a moment's notice. A splash of rosewater and a dip in dark chocolate makes them unforgettable.
Ingredients
1 1/3

cups

300

g

unsalted butter

,

2 1/2 sticks + 1 tbsp, about 60°F (16°C)

3/4

cup

150

g

granulated white sugar

1

tbsp

15

ml

rose water

1

tsp

5

ml

vanilla extract

1

vanilla bean

3 ¾

cups

450

g

all-purpose flour

,

spooned and leveled

1

tsp

kosher salt

1/3

cup

20

g

pink peppercorns

,

lightly crushed

2

cups

340

g

dark chocolate baking chips

,

60% cacao
Instructions
Add the butter and sugar to the bowl of an electric mixer fitted with the paddle attachment. Cream the butter and sugar on low until blended, about 30 seconds. Increase the speed to medium and beat until pale and fluffy, about 3 to 4 minutes.

Split the vanilla bean in half lengthwise and scrape the seeds with a small knife. Add the vanilla seeds, vanilla extract, and rose water to the butter and mix until combined. In a medium bowl, mix the salt and flour. Reduce the mixer's speed to low and gradually add the flour mixture until all of the flour is incorporated. Mix in the crushed peppercorns distributed. The dough will look crumbly and sandy.

Turn the mixture out onto a work surface and form into a dough using your hands. Roll into 2 logs about 10-11 inches at 1.5" thick. Cover in plastic wrap and chill for 30 minutes to 1 hour.

Preheat oven to 350°F (177°C). Line two baking sheets with parchment paper. Remove the dough from the refrigerator and unwrap. Slice each log into ¼ inch coins. Place cookies ½-inch apart on prepared cookie sheets. Bake cookies for 15 minutes until a pale golden brown around the edges, rotating the pan halfway. Remove cookies to a cooling rack.

Place the baking chips in a heatproof bowl over a saucepan filled with 1-inch of water. Bring the water to a simmer, then turn off the flame and let the chocolate sit until melted. Stir until smooth. Remove the bowl from heat and dip each cookie halfway into the melted chocolate. Transfer to a cooling rack lined with parchment paper and sprinkle with edible rose petals. Cool until set.
Nutrition
Calories:
108
kcal
Carbohydrates:
12
g
Protein:
1
g
Fat:
6
g
Saturated Fat:
4
g
Cholesterol:
11
mg
Sodium:
46
mg
Potassium:
64
mg
Fiber:
1
g
Sugar:
5
g
Vitamin A:
133
IU
Vitamin C:
1
mg
Calcium:
26
mg
Iron:
1
mg