Let's talk pumpkin.
In my house, pumpkin pie is a stalwart, a constant, an absolute must at Thanksgiving. Yet, this year I'm not making a pie, but maple pumpkin pot de crème instead.
Let me explain.
Food is about variables and constants. You can vary the filling in a pie, but it is always a pie. I've tried countless versions and variations of pumpkin desserts. Yet, no matter how much or little it's changed with just one bite it tastes like 'pumpkin pie.'
It's a lot like 'Blue Raspberry.' I have no idea what it is, but I know what is taste like be it DumDum, Slush Puppy, or vodka.
And, ya know what? That kinda makes sense.
Sometimes what makes food familiar has less to do with what is it, and rather more with what it reminds us of.
Happy Thanksgiving!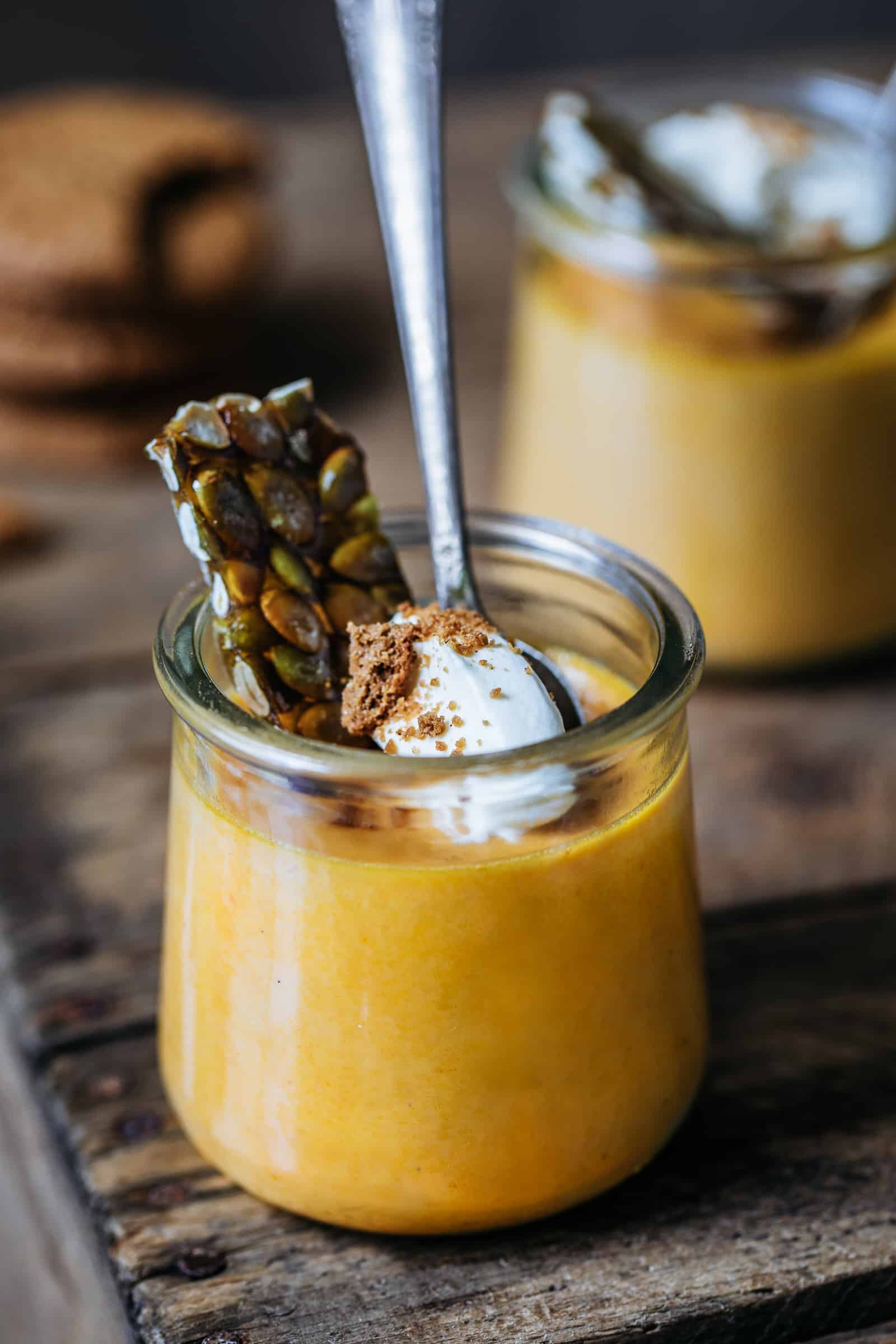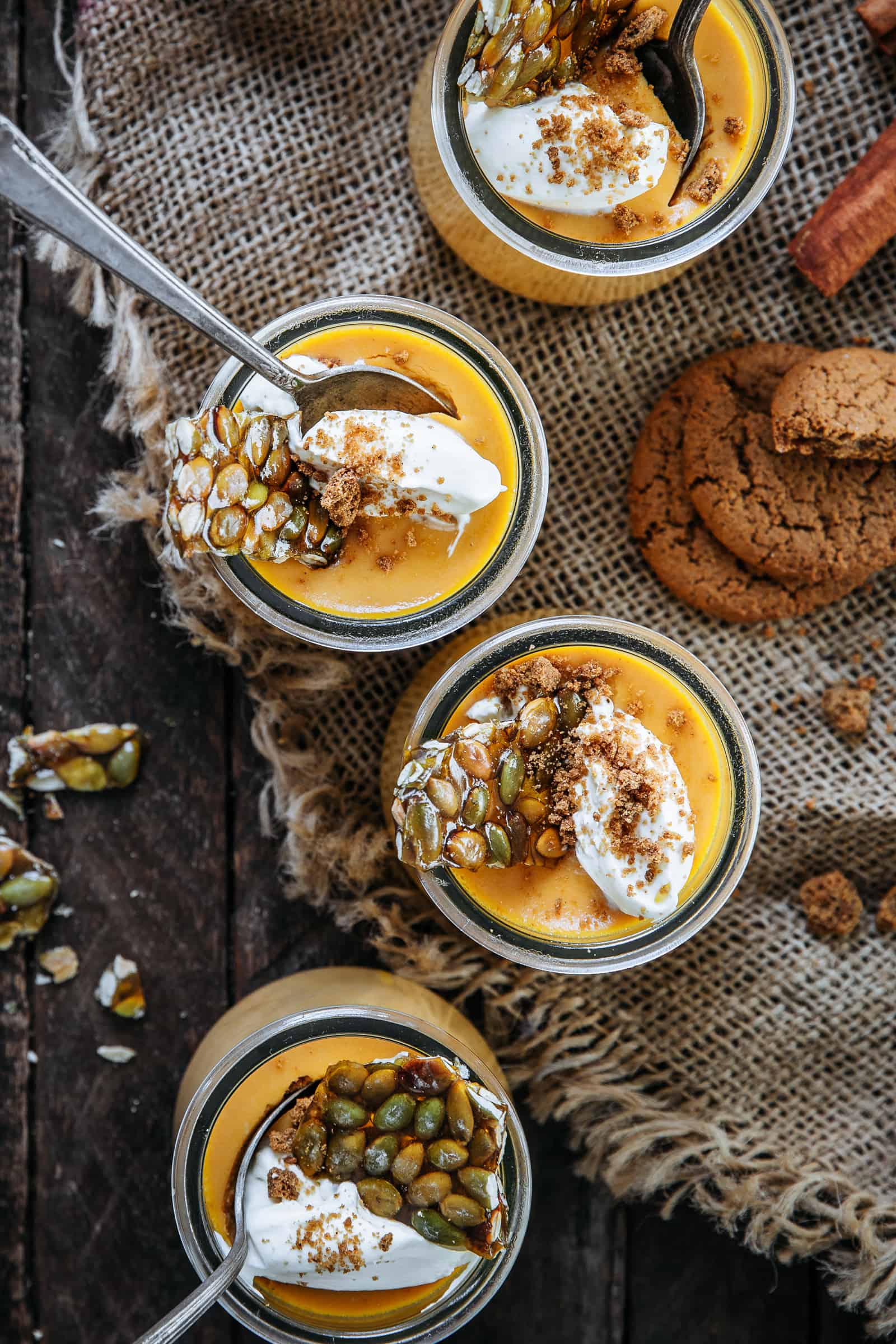 What is pot de creme?
A pot de crème — pronounce POH-de-KREM — is a French custard made from eggs, milk, cream, and sugar.
Unlike stovetop pudding, which often uses cornstarch, the egg mixture is poured into small jars and then baked in a water bath until just set.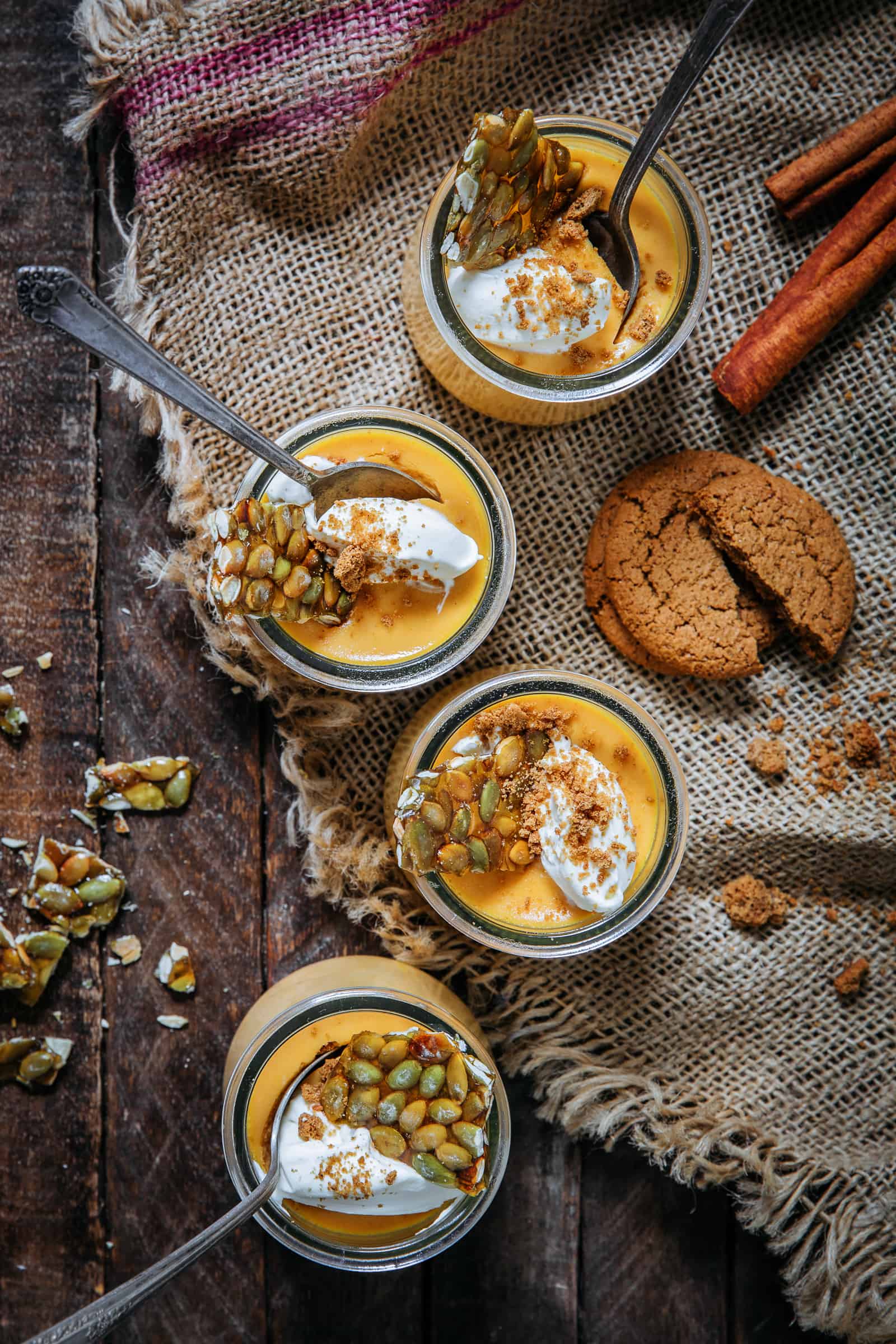 How to make maple pumpkin pot de crème?
When making a recipe, I want the main flavor to shine. So, my pumpkin pots de crème start by cooking down pumpkin puree with maple syrup and a small amount of cardamom and nutmeg.
Cooking the pumpkin does a few things.
First, it removes excess moisture, which concentrates the flavor. Second, it caramelizes the natural sugars in the pumpkin, aka more flavor.
Next, I combine the pumpkin with vanilla bean and cinnamon infused cream. It gives the custard a subtle warmth without overwhelming the pumpkin.
Then, I blend in egg yolks to give the maple pumpkin custard that fatty richness and ensure everything will set as it bakes.
Finally, I serve each pumpkin pot de crème with unsweetened whipped cream and crumbled gingersnaps for that instantly recognizable taste of pumpkin pie.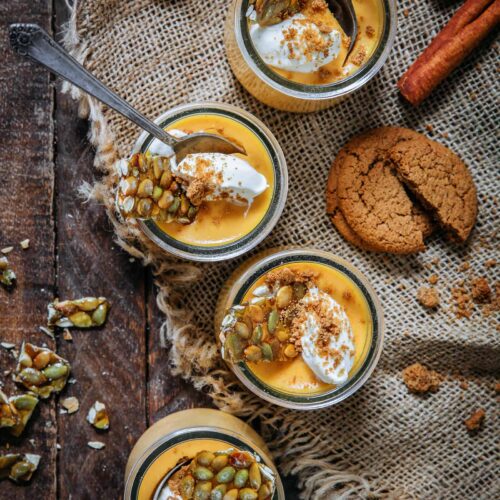 Pumpkin Pots de Crème with Pumpkin Seed Brittle
Maple pumpkin pot de crème with pillows of whipped cream and crumbled gingersnaps re-create that instantly recognizable taste of pumpkin pie.
Ingredients
Pumpkin Pots de Crème
1 ¼

cup

1 ¼

cups

heavy cream

1

vanilla bean

1

cup

whole milk

1

cinnamon stick

¾

cup

185

g

pumpkin puree

⅛

tsp

1/8

tsp

cardamom

¼

tsp

1/4

tsp

nutmeg

,

freshly grated

⅛

tsp

1/8

tsp

kosher salt

½

cup

175

ml

maple syrup

,

dark

7

egg yolks

,

large

gingersnap cookies

,

crumbled

whipped cream
Pumpkin Seed Brittle
1

cup

198

g

sugar

1/2

cup

120

ml

light corn syrup

1

cup

120

g

raw pumpkin seeds

,

unsalted

2

Tbsp

butter

,

unsalted

1

tsp

kosher salt

1/2

tsp

baking soda

1/2

tsp

cinnamon
Instructions
Pumpkin Pots de Crème
Preheat the oven to 300°F.

Arrange six 6 oz ramekins in a large, shallow baking pan. Put a large kettle of water on the stove and bring to a boil.

In a 2-quart saucepan, combine the cream, milk, and cinnamon stick and then scrape the seeds from the vanilla bean into the mixture. Warm the cream mixture over medium heat until small bubbles form around the edges, or 170°F. Remove from heat, cover, and steep for

10 minutes

. Discard the vanilla bean and cinnamon stick.

While the cream mixture steeps, combine pumpkin puree, maple syrup, cardamom, nutmeg, and salt in a large heavy-bottomed saucepan. Bring to sputtering simmer over medium heat while stirring constantly until thick and shiny, about 10 minutes. Whisk in the warm cream mixture until combined.

In a large bowl, whisk the eggs until pale, about 1 minute. Temper the eggs by slowly adding the warm pumpkin-cream mixture, whisking constantly. Strain the custard through a sieve into a large measuring cup.

Divide the egg mixture among the ramekins. Skim away any foam. Fill the baking pan with hot water until it reaches halfway up the sides of the ramekins. Cover tightly with tinfoil and bake until set and the center still wobbles, about 50 minutes. For a more firm custard, bake for a full 60 minutes.

Remove the ramekins from the water bath and transfer to a wire rack to cool. Cover with plastic wrap and refrigerate until firm.

Just before serving, make the whipped cream. In a cold metal bowl, whip the heavy creme until soft peaks form. Top each pot de crème with a spoonful of cream and a sprinkle of crumbled gingersnap cookies.
Pumpkin Seed Brittle
Line a half sheet pan with a silicone baking mat or parchment and spray with non-stick cooking spray.

In a 2-quart heavy saucepan, bring the sugar, corn syrup, and 2 Tbsp water to a boil over medium heat, stirring to dissolve the sugar.

Cook without stirring until the mixture turns amber in color and a candy a thermometer registers 290°F, about 5 minutes. If sugar crystals form, wash them down from the side of the pan with a pastry brush dipped in cold water.

Stir in the pumpkin seeds, butter, and salt and continue cooking until a candy thermometer registers 305°F, about 3 minutes.

Remove caramel from heat and stir in the baking soda and cinnamon. The caramel will bubble vigorously! Immediately pour the mixture onto the prepared sheet pan and spread as thinly as possible with a heatproof spatula. 

Cool completely, about 25 minutes, and then break into pieces. Store in an airtight container for up to 2 weeks.
Notes
The secret to pots de crème is the water bath, which insulates the custards from the oven's heat ensuring a silky, creamy texture.
To prevent overcooking, remove the custard when it is just set, and the center still jiggles.
Nutrition
Calories:
637
kcal
Carbohydrates:
68
g
Protein:
9
g
Fat:
37
g
Saturated Fat:
19
g
Cholesterol:
326
mg
Sodium:
105
mg
Potassium:
355
mg
Fiber:
1
g
Sugar:
60
g
Vitamin A:
6140
IU
Vitamin C:
1.9
mg
Calcium:
169
mg
Iron:
2
mg