Japanese iced coffee or cold brew?
Nowadays, cold brew ubiquitously appears on the menus of every third-wave coffee shop. And, with good reason. The slow, cold water extraction yields something smooth, chocolatey, and effortlessly chug-able.
Yet, when done right, Japanese iced coffee creates an arguably more flavorful, bright and complex cup of coffee.
With the Japanese method, you use hot water to brew an initially stronger cup directly over ice. The hot water pulls out all the flavors and aromas of the coffee while the ice flash chills the coffee diluting it to the perfect strength.
The Hario v60 is a tried and true classic and my preferred way to make Japanese iced coffee because it's quick and can make one cup at a time.
Hario v60 tips for the best iced coffee.
A solid pour over guide is a 1:16 coffee to water ratio. But, when brewing over ice, decrease the hot water to around 1:11 and make up the difference with ice.
You are trying to dissolve the same amount of coffee as you would when brewing hot coffee. This means you should also use a finer ground than you would use for hot coffee to help the coffee dissolve.
My recipe for one 12 oz cup calls for 26g of coffee to 286 g of hot water (1:11) and 130 g of ice for a total of 416 g of water for a 1:16 final ratio.
Have any questions? Issues? Let me know in the comments below!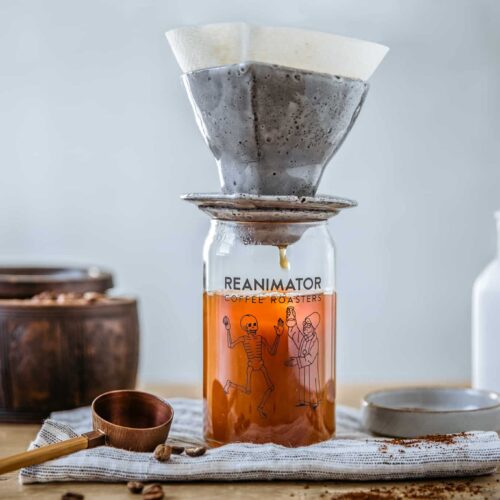 Japanese Iced Coffee v60 Pour Over
Unlike cold brew, which is all about removing acidity, Japanese ice coffee offers a full range of flavor in the time it takes to brew a cup of hot coffee.
Ingredients
4

tbsp

26

g

coffee beans

2.25

cups

500

g

hot water just off the boil

,

about 205°F
Instructions
Bring 500 g water just to a boil, about 205°F.

Weight out 26 g freshly roasted coffee beans and grind medium-fine, or similar in consistency to table salt.

Place v60 cone on top of vessel and place on the scale. Open a Hario filter, set inside v60 and rinse thoroughly with hot water. Empty vessel. This will remove any papery taste from the final brew and heat your vessel.

Add 130 g ice to the bottom of the vessel. Add ground coffee to v60 cone. Tare scale to zero.

Start a timer and pour about twice as much water as coffee 60 g over grounds and let bloom for 30 seconds. Slowly add the remaining 226 g water pouring continuously in a clockwise pattern up to but not touching the filter's edge. The goal is even saturation, so ensure the grounds are never exposed to air until the brew is finished. The whole process should take approximately

3 minutes

.

Once all 226 g water has been added, and the stream slows to an occasional drip, the brew is finished. Enjoy!
Nutrition